Bettina Auinger (text and graphics) interviews Josef Fill about his apprenticeship at WINTERSTEIGER
The first apprentice: Josef Fill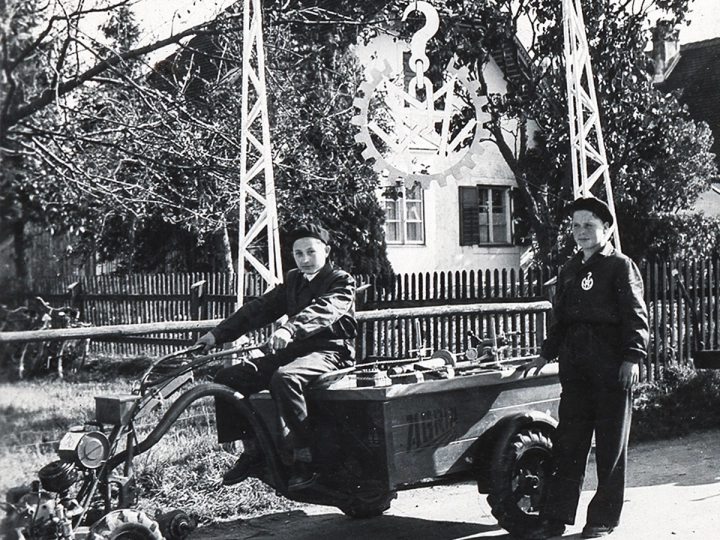 1957 – Josef Fill with the second apprentice Werner Hörletseder celebrating 1000 years of Obernberg
WINTERSTEIGER has trained more than 300 apprentices over the last 70 years, but it all began with one impressive young person indeed: Josef Fill, founder of Fill Maschinenbau in Gurten, former economic minister in the Upper Austrian provincial government and chairman of the Ried chamber of commerce.
Josef Fill was not only the first apprentice but also the first to complete an apprenticeship and the first foreman of Wintersteiger. He already spent his childhood close to his future teachers: Hans Wintersteiger had some apartments free, and Josef Fill was raised in one of them. In 1954, he started his apprenticeship at the newly founded company F.Walter & H.Wintersteiger KG. His younger brother Alois also joined the company 4 years later. From then on, one more apprentice was trained each year.
Apprenticeship 70 years ago.
Once a week, Josef Fill cycled from St.Georgen to Antiesenhofen and then took the train to the technical college. The working week at that time was 60 hours. With Fritz Walter and Hans Wintersteiger, Josef Fill had two outstanding teachers by his side: in the 10 years that Josef Fill worked for Wintersteiger, many new devices were developed and built – without the internet and without any computer software. Josef Fill: "From today's perspective, the workshop in Obernberg looks like a museum. But I could no longer work with the machines that are in my company today, and our apprentices in turn wouldn't know where to start with the tools from back then."
Fill Maschinenbau GmbH.
In 1966, Josef Fill began to build his own company. The 27-year-old took over a workshop including fuel station in Gurten and another very successful company was born. Today, Fill Maschinenbau is in its second generation of family ownership and employs around 1,000 people.