Important patent* in ski service: edge grinding with oscillating grinding discs.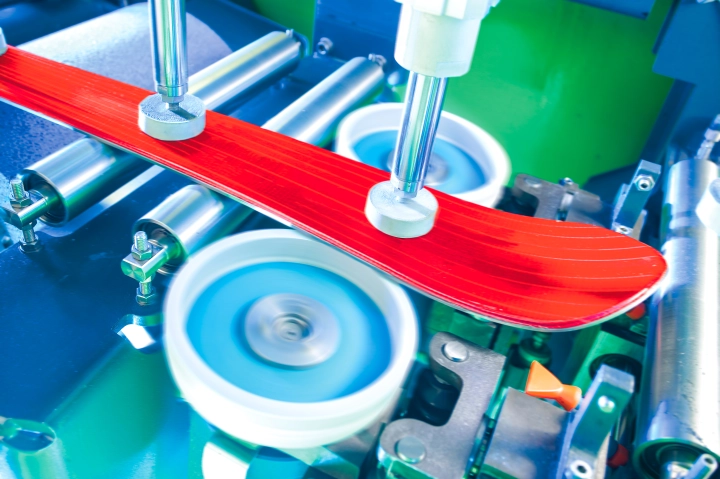 Ceramic Disc Finish
In 1996, WINTERSTEIGER further developed the existing disc technology for grinding side and base edges. The technology was patented and was an important milestone in the history of WINTERSTEIGER. The first machines with the revolutionary "Ceramic Disc Finish" technology were the Trim 80/90 edge grinding machine and the Shuttle 200 automated ski service machine. To this day, it enables precise ski edges and has consolidated WINTERSTEIGER's position as a competent partner in ski service.
From the belt to the disc.
The special feature of the disc technology are the self-sharpening and oscillating grinding discs, which can be used to process the side and base edges very precisely. Before this development the ski edges were mainly ground with an abrasive belt, which is a very imprecise procedure. For example, the base edge angle was not set in the service, and instead was applied more intuitively. With the disc technology, it was possible to grind the edge angle precisely for the first time. In racing, for example, a very flat edge angle of 0.5 degrees or less is ground on the base edge and 87 degrees on the side edge, while skiers for whom comfort is more important will use, for example, an edge angle of 1 degree on the base edge and 88 degrees on the side edge: the flatter or more acute the edge angle, the more aggressive and athletic the ski.
Over the last 20 years, WINTERSTEIGER has continuously worked to perfect disc grinding. Disc technology is also state-of-the-art in ski production. Today, around 90 % of all skis and snowboards are processed and supplied using this technology. It is also used in the racing departments and remains one of the most important advantages of WINTERSTEIGER ski service machines – another successful innovation from the SPORTS division.
*The patent was granted in 1996. It expired in 2016 after 20 years of protection.